CatVantage - shown at left is the standard version made with 100% recycled PVC and Birch Steps and Loft components.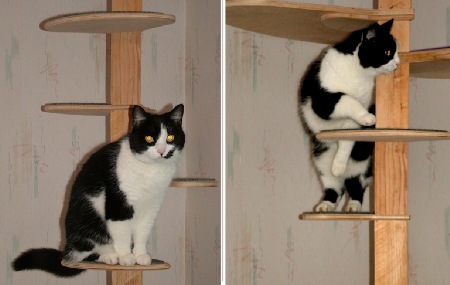 Leia perched on a small step and climbing up on medium steps towards the lofts.
This early version is made with Douglas Fir and Russian Birch.

( All wood versions are no longer being produced. )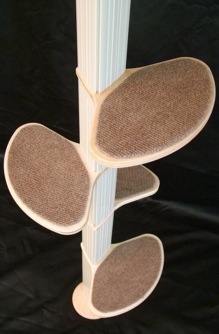 Looking towards the floor at the first four steps. This image is an attempt to convey the 3D nature of CatVantage. Pictures don't adequately provide the actual look and feel...

This unit is assembled for climbing counter-clockwise and descending clockwise. CatVantage can be assembled CW or CCW. Our test cats have demonstrated that once they learn it in one direction, they seem unable to climb it smoothly when built the opposite way. They still use ones built opposite to their learning, but fight it during ascent skipping steps along the way. Descending from the top, they tend to do well regardless of direction - but will climb down each step to a lower point on units they "understand."

The PVC is a light tan and comes from recycled windows and doors. It can be painted any color using products like Krylon's "Fusion" spray paint for plastics.

There are dozens of parts inside of the PVC version of CatVantage that come from other recycled plastics. Some of the rubber used in CatVantage comes from recycled car tires!

The design of CatVantage strives for environmental friendliness wherever economically feasilbe.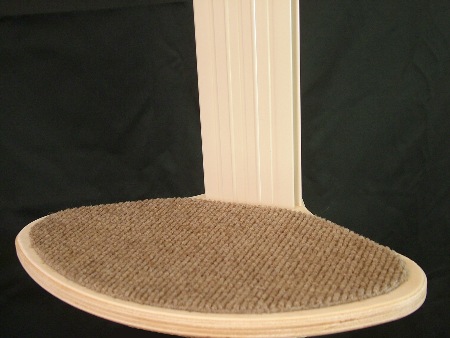 A close-up of a step and a PVC "spacer."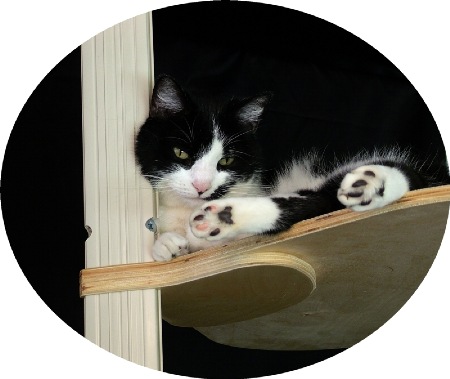 Leia - rules the roost from the loft of the PVC version.

The standard version made from a combination of 100% recycled PVC plastic components and renewable wood products is in current production. An all wood version (made from White Ash and Birch) is in limited release and will become routinely available in the spring of 2008.


CatVantage has a patent in the United States and has international patents pending.